A high converting website is paramount to your business success.
Unfortunately many small to medium size business owners believe they only have to do the bare minimum when it comes to creating a website.
Build a website and then the sales will come rolling in.
Wrong!!
It is not that easy.
Online consumers have a wealth of options available to them.
And if you don't have a converting website that makes it easy for visitors to do what they want to do, they'll simply move on.
Here's 5 Tips to a high-converting website:
Your choice of hosting platform is very important, as certain platforms can hold you back from ranking high on search results.
Your page load speed is crucial, as customers will leave if it takes too long to access your site. We know of cases where Google stopped AdWords campaigns because pages were taking too long to load.
You have to ensure that your website is following the best practices for Search Engine Optimisation (SEO). If you are unsure about this, consult a reputable SEO services provider to explain how they can help you get the rankings you want.
Download Your "4 Steps to Filling Your Appointment Book Without Having to Leave Your Office Again!" Checklist Now!
Enter your best details below:
[gravityform id="3″ title="false" description="false"]
Engage with your visitors by offering them a lead magnet free of charge (information that is highly desired by prospects). This allows you to get the contact details of visitors who are interested in your offering, but who are not ready to purchase now. You can follow up with these leads with offers to convert them into sales.
Make sure that you have an automated follow-up emailing service that can communicate with your newly captured leads to save you time, and will help to further qualify them.
These are 5 Tips to convert visitors to your website into customers… If you know you need a high-converting website and are unsure how to get started, contact us and we'll point you in the right direction. We wish you every success, The Success Wizards Team   PS. Would you like a Client Stampede towards you?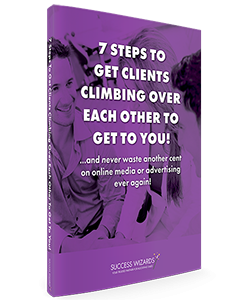 "7 Steps To Get Clients Climbing Over Each Other To Get To You"  Click Here To Grab your Free copy of this eBook now.