One of the absolute best investments you can make as a business owner is in marketing automation software for small business. You have multiple responsibilities to juggle on a daily basis – finance, operations, service, sales – and marketing in particular is one area where technology can step in to automate many of the manual processes that take up your precious time and attention. So we've designed this guide on how to find the right marketing automation software for Small Business.
Imagine what taking the bulk of your marketing operations off your plate could mean – the headspace to focus on new development opportunities and optimise your existing processes and services, for example. And once you find the best marketing automation tool to fit your company's needs, that can be your new reality. Read on to find out the four crucial steps on how to find the right marketing automation software for small business – to identifying the right solution that will enable you to free up your time and streamline your marketing.
Marketing automation software for small business owners can give you precious time back
Step 1: Set out your business goals and create a plan
Marketing automation software is ultimately just a tool to help you achieve your business goals. You need to know where you want to go and then find a tool to match that will enable you to get there. If you aren't sure of your end vision and direction, then you're much less likely to achieve it.
Doing this legwork upfront is vital. The more clarity you have on your strategy, the simpler it will be in knowing the right marketing automation software for small business. It should be a tool with features that support your strategy.

Conduct a Needs Analysis
This starts with carrying out a simple needs analysis. The secret lies in mapping out your existing marketing funnel and goals. This will crystalise your requirements and surface gaps in your current systems, processes and capabilities. This knowledge is what will shape your marketing automation tool demands now and in the future.
Here are a few things to consider in finding the right marketing automation software: How will the role of marketing change as the business grows? What strategies are we likely to use in the next 5-10 years? How will the team change in order to execute on these?
For some companies, the ability to craft simple email nurturing sequences and report on the performance of those campaigns will be enough. Email really is the channel that forms the beating heart of your marketing automation system. Here's what online entrepreneur and marketing guru Amy Porterfield has to say on this matter:
"Social media activity, off-site ads, and all other tricks are a drop in the bucket compared to the power of the email list. You may have heard me say it a million times on this site, but I'll say it again here: the energy of your business is directly tied to the strength of your email list."
Others may need to think bigger. Features and insights around revenue and returns will mean more sophisticated analytics capabilities that not all marketing automation platforms are able to deliver.

Understand the basics of marketing automation software
Think about all the ways you might reach your customers: social media, search, content marketing, mobile and SMS, email, direct mail, radio, TV. Even the sharpest marketers can struggle to keep things all straight. Marketing automation provides a central platform to connect multiple digital touchpoints all in one place and send targeted communications, along with segmenting, analytics, and reporting.
Marketing automation software automates processes such as customer segmentation, data integration, and campaign management. It makes manual processes way more efficient and opens the door to exciting new marketing possibilities. By integrating your various marketing channels you can more effectively nurture prospects and customers over the long term.
Automation is the key to unleashing growth for small companies. It becomes easier to personalise the buyer journey and build stronger customer relationships, allowing you to devote more attention to your content and messaging. It also becomes easier to add a personal touch by tailoring more relevant content for users. With your software working away in the background handling repetitive tasks, you'll be free to get back to the stuff that really moves the needle, like strategy and content.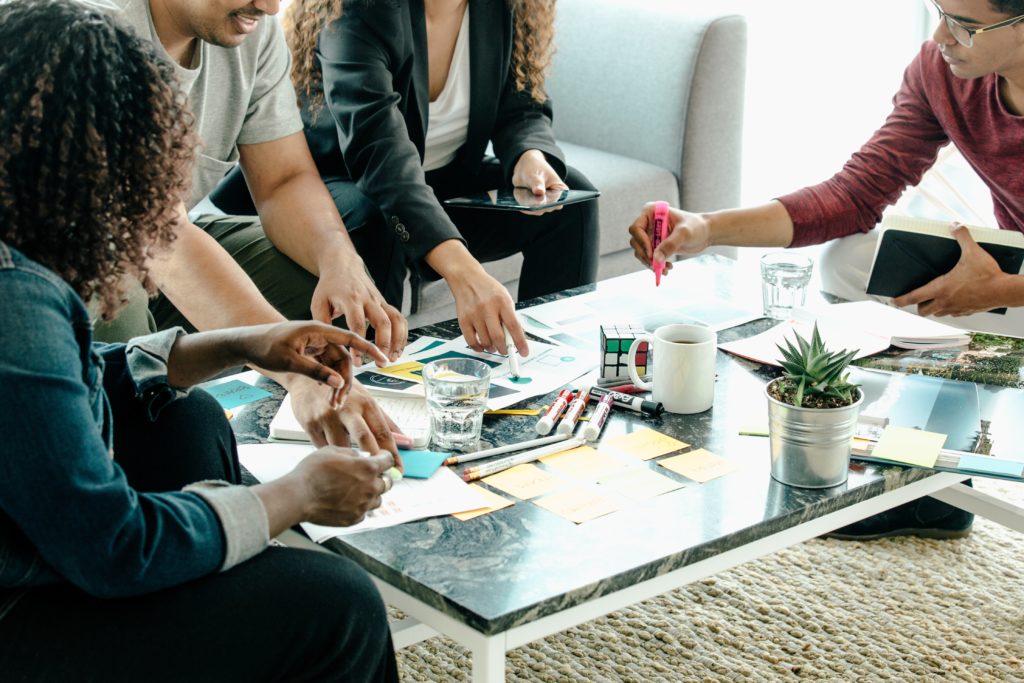 Wouldn't you rather spend time on creative brainstorming than wrangling your database?
Understand the benefits of marketing automation software for small business
There are plenty of benefits to be had once you have marketing automation software up and running. You will be able to optimise your messaging and targeting, and better map content to meet your prospects at each stage of the buying journey. You can expect to see better quality leads, and nurturing them down your sales funnel will be a much smoother undertaking. That means increased conversion rates and ultimately growth in revenue.
Personalised 1:1 communications are a requirement to stand out in today's saturated and noisy market. Customers are being hit with messages from every direction. If yours doesn't speak directly to their pain points and desires, they simply won't register as even the slightest blip on their radar. Building targeted customer communications and journeys from the ground up using marketing automation software allows marketers to guide leads through the sales funnel in a way that feels much more individual. You will be able to:
Segment your audiences by dimensions such as demographics, interests, stage in the buying cycle and actions taken

Create targeted messaging based on these data points

Schedule automated content and/or offers triggered by specific actions taken

Build dynamic content tailored to individual user profiles

Collate data from multiple sources to build profiles of users

Test different content and offers to improve conversion optimisation
As technology continues to develop, you can expect to see even more personalisation options on the table. The more deeply you understand your customers through the explicit and implicit data your system collects, the more customisation you can inject into your direct 1:1 communications with them for a truly tailored experience.
According to AI and B2B marketing expert Scott McLay: "While email automation tech is effective on its own, it gets really exciting when you combine it with AI. In the future, we expect AI technology to personalize each drip email to the individual recipient. For example, your AI-powered platform might scan a prospect's social media profiles to learn what they were doing at the weekend. Then it will personalize the next drip email with that information.". The following information is essential on how to find the right marketing automation software for small business.
Features to look for in marketing automation software
Now that you know what marketing automation software for small business can accomplish, let's boil down the key areas of focus you need to consider in looking for the best marketing automation tool.
Some features are more or less universal across marketing automation tools, while others are restricted to more complex, powerful expensive solutions. Common features include email marketing, triggered emails, lead nurturing, content calendars, social media management, registration forms, landing pages, segmentation, and event marketing.
Analytics is another must-have, but some platforms offer more robust reporting than others. Gathering and unifying data from multiple channels is key. Ideally, you want to be able to analyse data from all your touchpoints – social media, email, web analytics, landing pages, lead forms, etc – in your marketing automation platform and dig down to a granular level
Step 2: Research, research, and research some more
When it comes to marketing automation software for small business, personal recommendations are always a great starting point, so ask around your contacts and get a sense of what's popular with your peers. If you know someone with a successful online business, odds are they have a great platform powering their marketing. Referrals are great in determining how to find the right marketing automation software for small business.
Dig into reviews
Look at existing customer reviews of each tool to see what kind of feedback is being left. This can reveal a lot about the product, as well as the customer service and support.
Every website will tout a tool's strengths, but to get to their weaknesses you'll need to dig deeper. Reviews will often highlight the flaws that marketing copy glosses over.
Pay particular attention to reviews from companies that are similar to yours. If a tool works for them, that's a good sign.
Consider the costs
Marketing automation software is a powerful thing and comes at a cost.  Some platforms operate a freemium model, with a basic plan at no cost. In fact, you'll find that most marketing automation tools are priced on a sliding scale. But don't just look at the price tag on the plan you're considering. You may very well need to move up to a higher tier plan in the future, so have a look at how the next level up and beyond is priced. Ideally, the cost structure should be crystal clear on the pricing page and not leave you guessing.
Check out any setup and implementation fees and any extra charges that may apply.  For example, what if you go over your allowed number of leads one month? Furthermore, find out about the costs of ongoing customer support.
An investment in the best marketing automation tool for your needs can save you money in the long run
Consider your onboarding and ongoing support needs
There will inevitably be a learning curve with your new platform, and there may be kinks to work out with getting synced up with your other existing marketing tools. It's reassuring to know that your preferred vendor will be available to troubleshoot anything during this initial period. You'll also want to confirm what level of training over what period of time will be made available to you and your team to get you up to speed with the new system.
But also consider ongoing support. Once you've found the best marketing automation tool for your business, how much hand-holding will you be likely to need and what does the SLA with the supplier provide for? Might you need to look to a third-party provider for ongoing assistance?
Consider your integration requirements
Your marketing automation platform won't exist in a vacuum.  So, what tools are you currently using that your marketing automation platform would need to integrate with? Many platforms offer APIs that connect with your other email, social media, and content marketing tools, and data management platforms.
For example, is your existing CRM system compatible? Are webinars a key part of your marketing strategy, and are WebEx or GoToWebinar important platforms that you need to link up with your marketing automation software? Is account based marketing an approach you need your software to enable and measure? Does it allow you to customise and publish CTAs straight to your website? What other customisations might you need?
Consider the user interface
The marketing automation platform with the most bells and whistles won't do your business much good if you and your team struggle to use it on a daily basis. So it's imperative to choose a tool that is simple and intuitive to use. One that is overwhelming and cluttered will put your team off making full use of its capabilities and potentially waste a lot of time as they try to navigate it.
Consider accounts and permissions
How many staff will be managing the marketing automation software? This will dictate whether you need multiple separate user accounts and/or varying permission levels.
Also factor in the number of customer profiles and/or leads you will need to support. Don't forget to account for growth – your projections don't have to be 100% accurate, but a ballpark is helpful here. Allow for a tool that can scale with you for at least a few years to come.
Step 3: Shortlist and test
Now that you know what you're looking for in a marketing automation tool, it's time to create a shortlist. You want to look only for the features that are relevant and necessary for your business, and not get distracted by extra bells and whistles. Later in this section, we'll outline just some of the software available on the market right now for you to consider. Get your list down to a handful of options, and then you'll be well placed to dig deeper and narrow it down.
Don't rush this step! The more well-informed you are and the more research you do into each platform, the better off you'll be. The worst case scenario is committing to a platform that won't serve your needs as you scale up in the near future.
Then, it's crucial to get some hands-on experience with each tool to feel it out for yourself. You wouldn't buy a car without test driving it first; nor should you buy a marketing automation tool without evaluating it thoroughly and trying it out first.
Be sure to try out each marketing automation tool you're considering – and give it a proper whirl, not just a few cursory clicks! 
Get a demo
Most marketing automation software companies offer a free online demo to take you through the key features of their tool. It's a great chance to get a good look at each one's individual interface and dashboard and understand their unique quirks. Take note of this as you find the right marketing automation software for small business.
Schedule time for a demonstration of each of your shortlisted marketing automation tools. With any luck, this will give you enough insight to narrow your list down to just two or three.
Sign up for a free trial
In an ideal situation, you complete a trial run of your shortlisted platforms before going any further. Trying out a free version can save you money down the line if you can quickly see that a product just isn't going to work for your company. Free trials often last for a week or two, which is enough time to judge whether a tool is going to live up to your expectations and meet all your needs.
The main thing is to determine how easy it is to use, and whether it can accomplish all that you need it to. Every marketing automation platform has its own look and feel. If you aren't able to use a particular interface with ease, then odds are you won't be able to make full use of all the features on offer.
Some of the best marketing automation tools for small business
Drip is focused on e-commerce businesses. One of its strengths is email marketing automation, in particular, targeted campaigns and automated workflows. The powerful analytics dashboard makes it easy to get the pulse of your marketing efforts at a glance.
Hubspot is best known for its CRM, but it also has a marketing automation service. Features include email, social media, landing pages, lead management, analytics, and Salesforce integration. Interactions are all tracked and data compiled on a single dashboard.
Email marketing platform MailChimp has expanded its offering into the marketing automation space, offering features across both email and social media channels. You can manage Facebook and Instagram campaigns, create landing pages, segment audiences, A/B test emails and build drip campaigns.
SendPulse is a marketing automation platform that encompasses email, SMS marketing, and web push notifications. It's easy to A/B test campaigns and build signup, outreach, upsell and cross-sell flows for different stages of the customer journey.
Active Campaign enables businesses to gauge the health of their web, email, and mobile marketing. Its platform makes building and segmenting content across channels simple, and consolidates customer data so you can further iterate on what's working well and drop what's not.
Get Response is a marketing automation solution for businesses of all sizes. With features like web tracking, lead scoring, segmentation and drip campaigns, you can easily track customer actions in real time and build triggered responses to purchases, abandoned carts, and much more.
Sendinblue brings together your marketing efforts across email, social media, live chat and SMS. This marketing and sales software makes it easy to reach customers through mobile (text message) and digital channels, with the drag and drop builder making it a cinch to create segmented and personalised email campaigns.
SharpSpring centralises your digital marketing, across web, email, search, and social. This platform makes it easy for small businesses to build dynamic content, custom CTAs and web forms, track your website visitors and segment audiences all in one place.
Step 4: Evaluate the Options
By now, you know essential information on how to find the right marketing automation software for Small Business. You've had a play around with some different platforms and understand your options, and the pros and cons of each. Now it's time to take what you've learned and match this up against those business and marketing requirements you set out in step one.
Work out how well each option will enable your marketing team to deliver
Go back to your original selection criteria and rank your preferred tools against each need. Evaluate how well each platform performs on each individual capability. Also consider priorities, as not all factors are equally weighted. How important is each factor to your marketing strategy?
Once you've done this exercise, it should become clear which option is the most aligned with the direction you wish to take your business in.
Address any lingering questions or doubts
This is a major investment for any business owner, and so most marketing automation software companies are ready and willing to answer any queries you may have via email, phone, or live chat. After all, you and your team are likely to be logging in and getting hands-on  with this new platform every day to start with, so any questions or concerns should be laid to rest before you commit to any tool.
Now, go forth and find the best marketing automation tool
At first glance, it might seem to you that all marketing automation platforms offer basically the thing. But look a little deeper and the differences between tools start to become apparent.
Choosing marketing automation software for small business isn't a decision to rush into. Your ability to streamline your marketing processes, track customer journeys, and analyse the impact of your marketing rely on getting this right. And selecting the best marketing automation tool  comes down to what your individual business requires. Take the time to ask the right questions and you'll be able to build a solution around your company, rather than fit your marketing around a mish-mash of tools
Find out more information on how marketing automation can scale your business by contacting us here.